"(...) let yourselves be taken over by the light of Christ, and spread that light wherever you are." - St. John Paul II
---
"Everyone has a destiny, but destiny is God"

Andrea Bocelli

---
"The wound is the place where light enters the heart"

Rumi
---
---
Bring It All To The Table
"So bring it all to the table

There's nothing He ain't seen before

For all your trials, all your worries, and your burdens.

There's a Savior and He calls

Bring it all to the table."

Source: Musixmatch
---
---
The Church has one essential task - to pray and to teach how to pray
If prayer ceases, the Church has become like an empty shell that it has lost its bearings, no longer possesses its source of warmth and love.

Pope Francis
---
---
Feast of the Annunciation
---
For having left the path of others, you find a very special hand
Friday| March 19, 2021
---
Lent is a time to reflect on God's love
"For Lent is not a time for useless sermons, but for recognising that our lowly ashes are loved by God," "It is a time of grace, a time for letting God gaze upon us with love and in this way change our lives. We were put in this world to go from ashes to life."

Pope Francis
---
Tuesday | February 16, 2021
Do You Want To Fast This Lent?

Pope Francis
Fast from hurting words and say kind words.

Fast from sadness and be filled with gratitude.

Fast from anger and be filled with patience.

Fast from pessimism and be filled with hope.

Fast from worries and trust in God.

Fast from complaints and contemplate simplicity.

Fast from pressures and be prayerful.

Fast from bitterness and fill your heart with joy.

Fast from selfishness and be compassionate to others.

Fast from grudges and be reconciled.

Fast from words and be silent so you can listen.
---
Ordinary Miracle... Today
Monday | February 15, 2021
---
Make this world a better place
Monday | January 11, 2021
"Our duty is to work so as to make this world a better place, and to fight. Our faith is revolutionary through an impulse that comes from the Holy Spirit. We must follow this impulse in order to go out of ourselves, to be men and women in accord with the Gospel of Jesus. Any life is decided by the capacity to give oneself. It is there that one transcends oneself, that one becomes fruitful." - Pope Francis
Reflection:
When was the last time you called upon the Holy Spirit to help you reach out to another person and bear the fruit of kindness and mercy?
---
Children of God
Sunday | January 10, 2021
CHILDREN OF GOD
"Do we remember that in baptism we received the 'seal' of our Heavenly Father, and that we became his children? To put it simply: we bear God's surname, our surname is God, because we are the children of God. Here lies the root of the vocation to holiness!" - Pope Francis
Reflection:
What do you know about the day you were baptised? How does being a child of God impact the decisions you make every day?
---
Let Christ's light shine in love for one another
Friday | January 8, 2021
"May each one, as far as he or she is able, give his or her best in a spirit of genuine service to others." - Pope Francis
Reflection: Do you give others your best? If not, what holds you back from doing so?
---
Gifts of God
Sunday | January 3, 2021
"Creation and the goods of the earth are gifts of God bestowed upon all human beings who are at the same time their custodians and beneficiaries." - Pope Francis
Reflection: What gifts - spiritual and material - has God given you, and how do you use them to give God glory?
---
Compassion for all
Saturday | January 2, 2021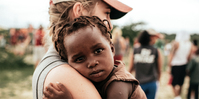 "God] has compassion; he has compassion for all of us; he has compassion for humanity and sent his Son to heal, to regenerate, to recreate, and to renew it." -Pope Francis
Reflection: Where do see evidence of God's compassion for humanity today? What places are in most need of Christ's healing and renewal? Bring these to prayer as a sign of your compassion for all.
---
Friday | January 1, 2021

"There was a beginning and there will be an end, 'a time to be born, and a time to die' (Eccl 3:2). With this truth, so simple and fundamental and so neglected and forgotten, Holy Mother Church teaches us to end the year and also our day with an examination of conscience, through which we review what has happened; we thank the Lord for every good we have received and have been able to do and, at the same time, we think again of our failings and our sins - to give thanks and to ask for forgiveness." - Pope Francis

Reflection: How do you end each day? For what in the past year do you give God thanks? Where in your life do you need to ask for forgiveness to enter the new year with a clean heart?

---
MASS TIMES -
Monday - Saturday: 10:00 am
Sunday: 9:30 am - 10:45 am - 12:00 noon
OFFICE HOURS
Monday - Thursday: 10:00 am - 1:00 pm
Tel.: + 353 1 283 2988
email: parishoffice@newtownparkparish.com
---